Activism Package - Confronting Anti-Blackness & Creating Psychological Wellbeing
Fri, Mar 11, 2022, 12:00 PM EST – Sun, Oct 16, 2022, 2:30 PM EDT
Facebook LiveStream @AHealingParadigm
Description
Under the editorial leadership of Dr. Kevin Cokley, students, scholars, psychologists, and community activists joined together to offer diverse perspectives on confronting systemic racism rooted in Anti-Blackness. This multi-disciplinary effort resulted in the text: Making Black Lives Matter: Confronting Anti-Black Racism. A Healing Paradigm (AHP) will host a 7-month series, March - October 2022 based on the book. Many of the authors in addition to several thought leaders will join us for a series of virtual discussions regarding innovative strategies for confronting Anti-Blackness, authentic Anti-racist action, and self-care. The bi-monthly author talks can be viewed live and on-demand.
In addition to attending the virtual discussions, participants have the opportunity to engage in our small group Deep Dive sessions facilitated by mental health professionals and Mbongis (community gatherings to discuss an issue) that include thought leaders such as Dr. Mawiyah Kambon, Dr. Thomas Parham, and student-scholar-activists of the next generation.
The series also offers virtual wellness activities and a resource library to support you in caring for your psychological wellbeing as you confront Anti-Blackness. We will end the series with an in-person ancestral walk led by historian Dr. Kenja McCray in Savannah, Georgia.
Psychologists, social workers, counselors, and school psychologists can earn up to 45 continuing education credits (CE's). Educators, activists, and others can earn professional development credit. Check the fee schedule for the relevant pricing.
This package includes a set of four live author talks discussing topics related to the theme of Activism. If you would like more information on the full program, click the links below.

Schedule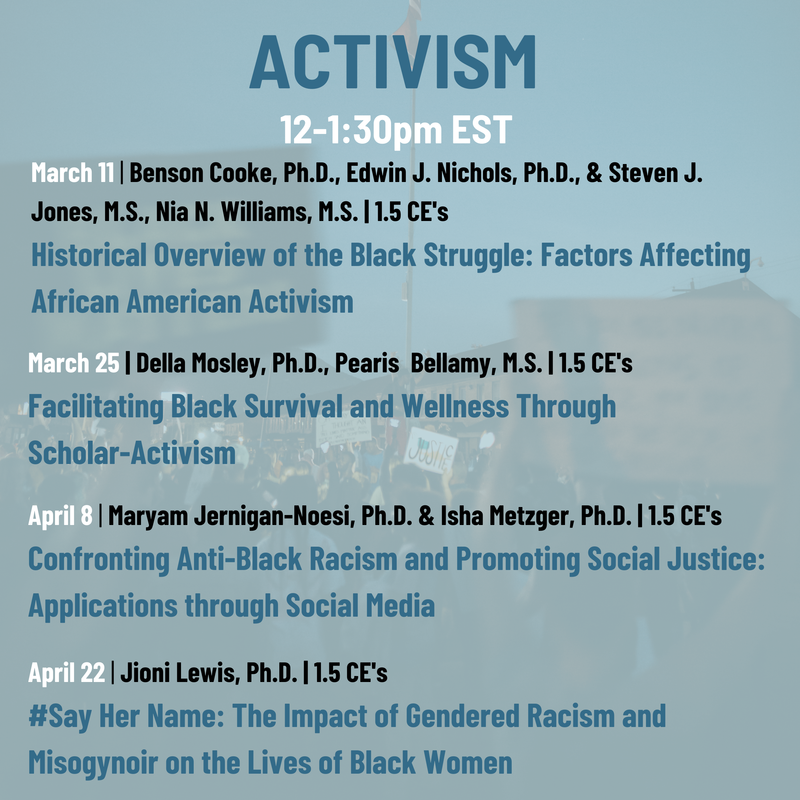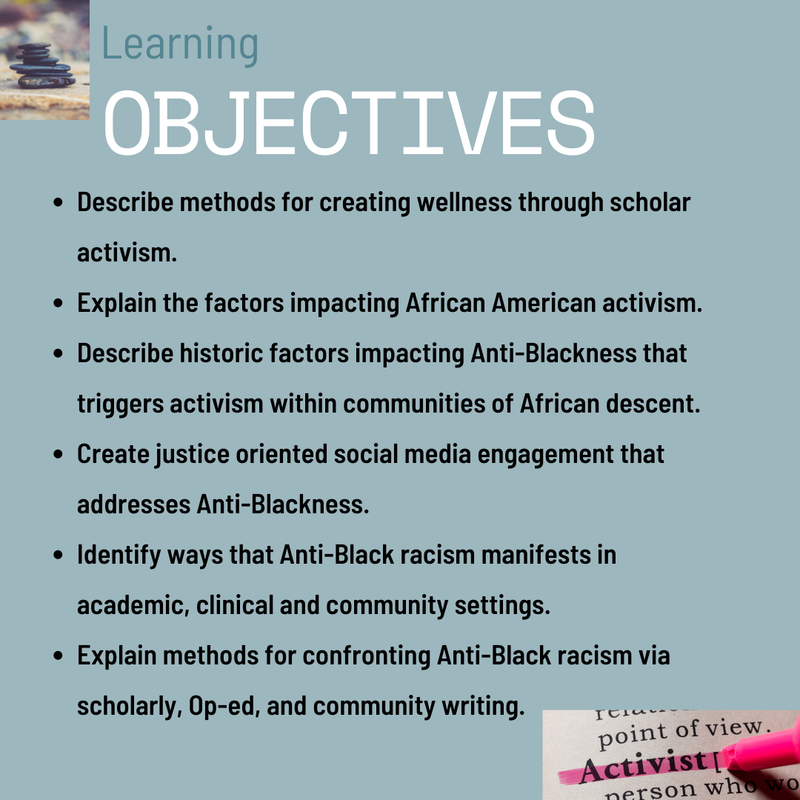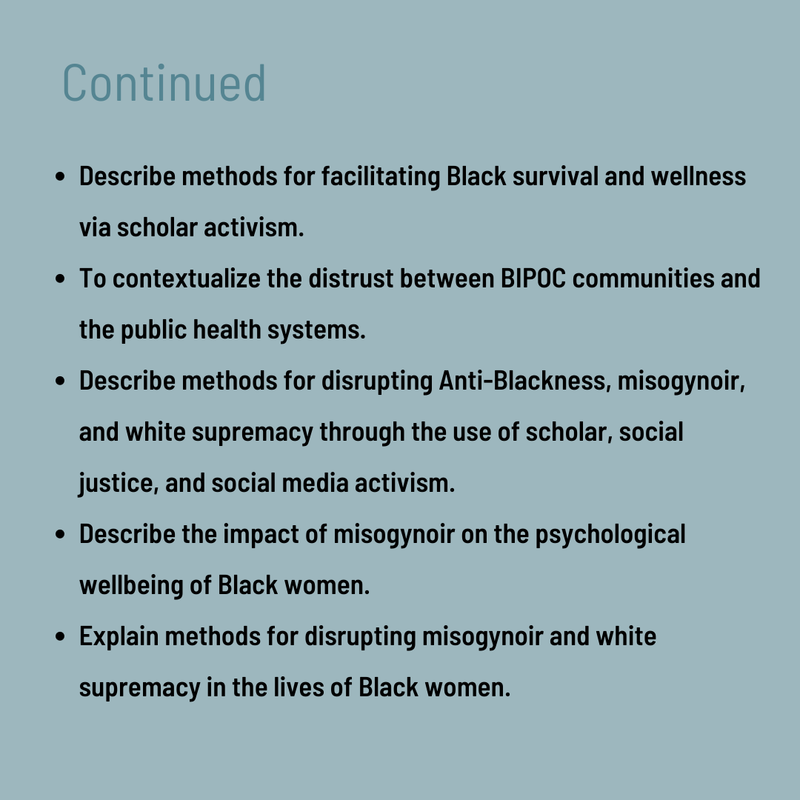 Invoices
If you need an invoice for your University or Company, contact us directly at Workshops@AHealingParadigm.com or (404) 635-6021.
M
orehouse Students and Faculty
Current Morehouse Students, Faculty, and Staff can attend the Live Virtual Sessions for free and receive professional development credit. There is a fee to attend Deep-Dive sessions and wellness activities or receive Continuing Education credit. Please contact our office for pricing and registration at 404-635-6021 or email Workshops@AHealingParadigm.com. Be prepared to provide your Morehouse email and M#.
PARTNERSHIPS
A Healing Paradigm has partnered with the Faculty Development, Teaching, & Advising Center at Morehouse College to offer this series for faculty, staff, mental health professionals, and the community. Dr. Monique Earl-Lewis serves as the co-convener of the series. She is an Associate Professor in Africana Studies & Director of the Center. As an organizational psychologist, Dr. Earl-Lewis is committed to partnering with community organizations to advance the unique mission of Morehouse College that includes advancing knowledge of Black life, history, and culture. A Healing Paradigm is excited to form this partnership with Dr. Earl-Lewis and her staff.
Get Connected
Instagram - @AHealingParadgim
Linkedin - Dr. Ifetayo Ojelade
YouTube - Dr. Ifetayo Ojelade
Twitter - @DrIfetayo
Facebook - @AHealingParadigm